(Photo by Motion Picture Artwork © 2019 STX Financing, LLC. All Rights Reserved.)
In a year in which franchises and reboots are dominating more than ever – and some are sounding the death knell for the traditional mid-budget drama and comedy – Hustlers is looking to buck a trend. It is one of the year's few movies without a 2 at the end of its title (or a 3 or 4, or a colon somewhere in the middle) to be generating serious box office buzz. Much of that has to do with the cast, which puts A-list star power via Jennifer Lopez alongside fresh-off-a-mega-hit It Girl Constance Wu, and peppers in some crowd-drawing names from the music world, with Cardi B and Lizzo along for the ride. And it has to do with the allure of the Hustlers story, a crime caper about a group of strippers who found a smart – and entertaining – way to swindle rich Wall Street types at the time that those same types were crashing the global economy.
Directed by Lorene Scafaria (Nick and Nora's Infinite Playlist), Hustlers has sex, violence, money, great dancing, a killer soundtrack, and puts a very high heel on the neck of the 99%. Many are predicting it to be one of 2019's first genuine surprise hits; the movie's rapturous reception at the Toronto International Film Festival has done nothing to dampen that expectation. A big success would be familiar territory for Wu, who made her first major studio picture last year playing Rachel Chu in the biggest surprise hit of 2018, Crazy Rich Asians. The star of ABC's Fresh Off the Boat – she assures us, unprompted, that she loves the show as much as we do and is happy to be returning to it – says Hustlers has another ingredient that crowds who show up on opening day might be surprised to see: a huge amount of heart. And that's something that may make this Goodfellas-style story of a group of women doing what it takes to get by even bigger than some are expecting.
---
Joel Meares for Rotten Tomatoes: I think a few people who go to this movie are going to be surprised that while Hustlers is about exotic dancers and is set in a strip club, it's really about relationships – mothers, friends. Do you think people are going to expect that?
Constance Wu: Yeah, I completely think that people are not going to expect it. I mean, for me, at the end of the day, this movie is really about friendship, a friendship between these two women [Wu's Destiny and Jennifer Lopez's Ramona]. Destiny thinks of Ramona as like an aspiration, a friend and a mentor. And Destiny's own mother abandoned her when she was little. So in that sense, Destiny has been seeking somebody like Ramona her whole life. I really think that that's kind of the story of the movie. It's not about stripping, it's not about robbing men. It's not about who's a hero, who's the villain. Because nobody's truly a hero or a villain. These girls did bad things and men did bad things. We're all just complex human beings. We go a little deeper than just the externals of what everybody thinks a strip club is.
(Photo by Motion Picture Artwork © 2019 STX Financing, LLC. All Rights Reserved.)
There have been a few high-profile movies that take place within the stripping world, but this seems to be the biggest high-profile one directed and written by a woman, and I think that really shines through. Was working with Lorene and having a female filmmaker overseeing this project one of the draws for you?
Oh, for sure. Lorene and I instantly clicked. And I think it was important to have her lens on this movie and her pen, computer – her writing on it!  And even Jessica Pressler, the woman who wrote the source material, which was the New York magazine article, to have her point of view. And then the fact that the New York magazine article was written from the perspective of Roselyn Keo, an Asian-American woman. It was really, from start to finish, a project that was centered around women and it was by and about women and told through the point of view of an Asian-American woman. That is really rare actually.
My acting coach at one point commented, and he said, like, "Hey, how come there are no men of substance in this movie? The men are just, like, there." And I was like, "Yeah." And it doesn't mean we don't love men. Obviously, men have got great stories. But I said to my acting coach, "Oh yeah, because it was not about them." But that happens with women a lot, too. There are a lot of movies where the women are just there to be a prop, or they're just there to serve the story and not to have their own story. And the fact that it was so unusual that my acting coach had to pay attention, like, noticed it – that says something not about our movie but about our culture and the lack of this type of story and these types of roles.
(Photo by Motion Picture Artwork © 2019 STX Financing, LLC. All Rights Reserved.)
You mentioned it's about friendship and that really is the heart of it. And it seems so genuine, this bond that these women have, in particular that you and Jennifer/ Destiny and Ramona have. What did you guys do to establish that chemistry, because it sort of rang off the screen as so authentic.
I think, at least from my perspective, I just really love and admire Jen so much, like naturally. And the more I got to know her, the more I just truly loved her. Because yeah, Jen is an icon, but when you get to know her, she's really down to earth. She has her sister on set with her, her kids come sometimes, her mom's there. She is a family person, and we just talked like girls. We just really enjoyed each other as people. It's interesting, because everyone's like, "Oh how did you develop this chemistry?" It's not like we did speed dating or something; it was like any friendship. It was a natural evolution from time spent with somebody that you love and admire. And also, Jen, by nature, is a very caring person, and this is only my second studio movie ever that I've ever done, and she's done so many. So somebody like that really caring about me and nurturing me and just wanting to do whatever she could to make me feel comfortable, it meant a lot to me.
Was there anything that you were surprised to discover that you had in common with Jennifer Lopez when you got to know her?
Yeah. We were talking about some of our high school boyfriends. We had similar kinds of stories about that.
The other thing that comes through when watching is how much fun some of the scenes in this movie must have been to shoot. I'm thinking specifically about the Christmas morning party and the scene where all the girls get on stage together when a major celeb comes into the club.
The Christmas scene was really fun just because we all love each other on that set, and we were just free and silly and whatever. And then also the Cardi and Jennifer pole dancing and lap dancing scene is so fun because we were improvising. The [celebrity] scene… it was super fun, but to be honest, physically it was a little hard to keep your balance on the stage with so many bodies around you. A lot of that scene, it was super fun, but a lot of it I'm thinking like, "Don't fall over, don't fall over." And there are takes, which obviously they didn't use, where I fell over because of those heels!
(Photo by Motion Picture Artwork © 2019 STX Financing, LLC. All Rights Reserved.)
Those heels are amazing. Was it intimidating to perform not just with J-Lo, who's known for her dance background, but also with so many of the others who had significant dancing experience?
I don't know if scary is the right word for it, necessarily. It was really inspiring how good Jen was. Like in that scene where she dances to "Criminal," I just wanted to stand up and cheer. It was just so amazing. But I will say that I was very relieved that my character was not supposed to be super great at dancing. So that kind of let me off the hook, in a way. Because Jen's character teaches Destiny how to get better at dancing. It works for the character is what I would say, and it was just inspiring to be able to work with women who had dance training and are incredible athletes.
We said people might be surprised when they come into this movie: What do you want them to leave with?
I want people to leave this movie caring about these characters and caring about them as people, as friends, and as women who are trying to make the best of a world that hasn't always been fair to them, and they're still figuring it out. Empathy and care is what I hope people get out of it. And fun — I want people to laugh.
Hustlers is in theaters September 13, 2019. 
#1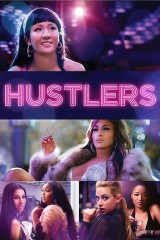 Critics Consensus:
Led by a career-best performance from Jennifer Lopez,
Hustlers
is a uniquely empowering heist drama with depth and intelligence to match its striking visual appeal.
Synopsis:
Working as a stripper to make ends meet, Destiny's life changes forever when she becomes friends with Ramona -- the...
[More]
---
Like this? Subscribe to our newsletter and get more features, news, and guides in your inbox every week.