Altered Carbon is bigger than ever as it enters its second season. There are new characters to meet, new worlds to explore, and new sleeves to wear. In this season, Anthony Mackie steps into the role of Takeshi Kovacs, played mostly by Joel Kinnaman in season 1, whose Stack now drives a militarily enhanced sleeve with super-human strength and the ability to summon guns directly to his hands merely by raising his arms. It was a lot to prepare for and, yes, Mackie admits, he got hit by a few stray guns trying to pull off the moves on screen.
Ahead of the series' return, Rotten Tomatoes sat down with the stars of Altered Carbon season 2 – returning cast members Renée Elise Goldsberry (Quellcrist Falconer) and Chris Conner (Poe), as well as newcomers Mackie, Dina Shihabi (Dig 301), Simone Missick (Trepp), Torben Liebrecht (Colonel Ivan Carrera), and Lela Loren (Danica Harlan) – to learn about new alliances being formed, who their characters are (or how they've changed), and whether they see Stack technology as something something to fear or something to embrace.
Plus, Mackie gets candid, opening up about how Disney+'s The Falcon and the Winter Soldier will do things for its two lead characters that the MCU movies never could.
Altered Carbon season 2 is now streaming on Netflix.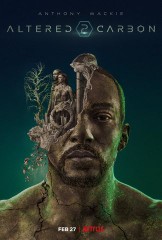 Critics Consensus:
While not quite there yet, a clearer sense of purpose and more defined characters push
Altered Carbon
's sophomore season one step closer to the brilliance of its source material.