(Photo by Disney+)
Disney+ launched this week to the delight of millions (10 million already, apparently), and the most talked-about original content is The Mandalorian, the first ever live-action Star Wars TV series. The half-hour bounty hunter–driven space adventure dropped just one episode on the streaming service to start with, and it's piqued a lot of interest and curiosity in the rest.
Disney and Lucasfilm held a premiere for the show in Hollywood on Wednesday night that was attended by creator Jon Favreau; directors Dave Filoni, Deborah Chow, Rick Famuyiwa, and Bryce Dallas Howard; and stars Pedro Pascal, Carl Weathers, Gina Carano, and Werner Herzog. Favreau and Filoni then introduced a screening of the pilot and episodes 2 and 3.
---
RELATED: See Where The Mandalorian Ranks Among the Best Disney+ Shows and Original Movies, Ranked by Tomatometer
---
A number of critics were invited, too, and afterward they offered some assurance that subscribers — especially those invested in the Star Wars Universe — have a lot more to look forward to with this program.
Here's what critics are saying about the first few episodes of The Mandalorian:
---
---
Are the next two episodes as good as the first? 
Episodes 2 and 3 of The Mandalorian are even better than the first — thrilling, violent and weird as hell (in the best possible way)."
– Drew Taylor, The Playlist
WOW. Episodes 2 and 3 of The Mandalorian are AMAZING. If you weren't in love with chapter 1, just you wait for 2. People are going to lose their sh**s over this.
– Peter Sciretta, Slashfilm
Wow! The Mandalorian just gets better and better.
– Jason Guerrasio, Business Insider
If you liked the way episode 1 ended, you are going to be VERY happy with episodes 2 and 3. Love what I saw tonight.
– Steven Weintraub, Collider
Count me as one who was a bit underwhelmed by the first episode of The Mandalorian, but episodes 2 and 3 made me giddy…Definitely hooked now!
– Yolanda Machado, The Wrap
Watched the first three episodes tonight. Loved it.
– Adam Tanswell, Little White Lies
---
Will Star Wars fans in particular enjoy what they see?
The first three episodes of The Mandalorian remind me of everything I love about Star Wars and that's all I will say on that.
– Michelle Buchman, Nerdist
I can't say anything about chapters 2 and 3, but this show continues to be everything I wanted and more! I felt so much joy and love for Star Wars, I smiled like an idiot the entire way [home].
– Johnamarie Macias, Culturess
Very happy to say episode 2 and 3 of The Mandalorian are great and have a ton of incredibly cool, clever and fun 'hell yes!' moments for Star Wars fans. There were so many times I had a huge grin on my face watching these episodes.
– Eric Goldman, Fandom
By the end of Mandalorian episode 3 you will be completely invested in this story and these characters. Each episode dives deeper and is filled with Star Wars surprises. My face hurts from smiling.
– Germain Lussier, io9.com
The future of Star Wars is very bright.
– Peter Sciretta, Slashfilm
---
(Photo by Disney+)
What are some specific treats the show offers?
There is some crazy action in episodes two and three.
– Steven Weintraub, Collider
Loving the show's structure. Mando has these mini adventures every episode.
– Jason Guerrasio, Business Insider
It's so much bigger than I imagined. I am so pumped.
– Peter Sciretta, Slashfilm
That shocking thing that showed up at the end of episode one… yeah, there's A LOT more of it coming your way…Seriously, you are not ready for the cuteness that's coming.
– Jason Guerrasio, Business Insider
---
How is the mix of directors with each episode? 
Directors Rick Famuyiwa and Deborah Chow BRING IT.
– Yolanda Machado, The Wrap
[Famuyiwa and Chow] both nail it. I can see why Chow has been hired to be the director of the Obi-Wan Kenobi series. She's very much right at home in the world of Star Wars.
–  Eric Goldman, Fandom
---
With a show this good, will we ever leave the house (or Disney+) for other entertainment options again? 
This show is absolutely one of the best and a huge win for Disney+.
– Drew Taylor, The Playlist
Seeing The Mandalorian on a movie screen is a completely different experience. I really hope once all the episodes of have aired they offer the fans a way to see the series on a movie screen.
– Steven Weintraub, Collider
The Mandalorian airs Fridays on Disney+.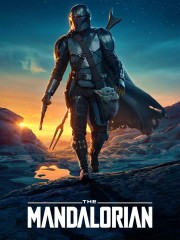 Critics Consensus:
Action-packed and expertly-crafted -- if at times a bit too withholding --
The Mandalorian
is a welcome addition to the
Star Wars
universe that benefits greatly from the cuteness of its cargo.
---
Like this? Subscribe to our newsletter and get more features, news, and guides in your inbox every week.