Join us weekly as Rotten Tomatoes reports on what's indie features are streaming. From promising releases by new voices to experimental efforts from storied filmmakers – or perhaps the next indie darling to go the distance for end-of-year accolades – we will break it all down for you here each week.
---
For the foreseeable future, the specialty box office and all theatrical releases will be on hold as we all make efforts to socially distance ourselves and reduce the spread of the COVID-19 coronavirus. With that in mind, we have reshaped our Indie Fresh List to include VOD and select drive-in releases. This week we have an Irish crime thriller, a World War II tearjerker, and a documentary about ACLU lawyers. In our Spotlight section, we have a new sex comedy featuring Stranger Things star Natalia Dyer, and we have new trailers featuring Stranger Things' Joe Keery, Sense8's Tuppence Middleton, and Rome's James Purefoy.
---
New This Weekend
---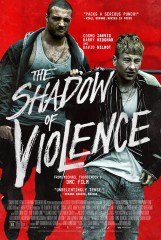 A powerful thriller starring A Killing of A Sacred Deer's Barry Keoghan, The Shadow of Violence will hit drive-in theaters this weekend after positive reviews on the festival circuit last fall. Currently Certified Fresh at 94% on the Tomatometer, the taut Irish crime drama follows an ex-boxer-turned-mob associate who is pressed to cross the line between enforcer and hitman. Led by standout performances from Keoghan and Peaky Blinders standout Cosmo Jarvis, the debut feature of director Nick Rowland and screenwriter Joe Murtagh is "an immersive tale of tortured masculinity and divided loyalties that pulls the viewer right into the raging bull mindset of its haunted protagonist," according to Mark Kermode of the Observer.

Playing at select drive-in theaters in Sarasota, Chicago, Houston, Dallas, Austin, Oklahoma City, Winchester, Minneapolis, Ft Collins, Salt Lake City. 
---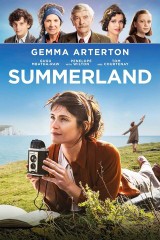 Gemma Arterton and Gugu Mbatha-Raw star in this World War II drama about reclusive writer Alice Lamb, who is left to care for a young London refugee at her home in a South England seaside village. The prickly author and the young boy develop an unlikely but unshakable bond that eventually fills the void left by the absence of the boy's parents and helps mend Alice's broken heart. "Arterton triumphs again and Swale marks herself as a director to watch. Summerland successfully combines an intelligent feminist fable and a lesbian love story with a slick period tearjerker," writes Pamela Hutchinson for Empire Magazine.

Available to rent or buy July 31st on Vudu and Google Play.
---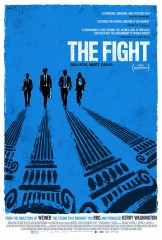 From DACA to marriage equality and the voting rights act, many landmark moments in American history have happened as a result of decisions by the Supreme Court, and many have been fought by the lawyers from the ACLU. The Fight is a gripping doc that follows a group of young, underfunded, incredibly talented, and unflappably passionate lawyers form the American Civil Liberties Union(ACLU), the 100-year-old institution that was founded to defend and preserve the individual rights and liberties guaranteed to every person in this country by the Constitution. "The Fight is an endlessly engaging look into the often labyrinthine legal apparatus, and the film seamlessly moves between the cases with such incredible skill that the team of editors deserve all the accolades afforded to them," writes Josh Kupecki of the Austin Chronicle.

Available to stream now on FandangoNOW, Vudu, Google Play.
---
Available on VOD – Spotlight Pick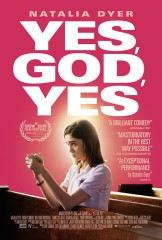 Strangers Things' Natalia Dyer stars in this SXSW standout period sex comedy that takes a look back at the days of dial-up modems and AOL chat rooms. Dyer stars as Alice, a 16-year old midwest Catholic school girl who lives a chaste adolescent life until she stumbles into an online chat room and it unexpectedly goes from innocent to x-rated. Presented with new evidence, and discovering the joys of self-love, Alice begins to question her repressed upbringing and heads to a mysterious religious retreat, where she discovers things may not be all they appear, and embarks on a journey of self-discovery… and satisfaction. A semi-autobiographical tale from writer-director Karen Maine,"Yes, God, Yes feels new and specific to the character because of its commitment to sex-positivity. It is a break from today's chaotic world as it cannonballs into a time of teenage anxiety and naiveté," writes Shea Vassar of Film Daze.

Available to rent or buy now on FandagoNow, Vudu, iTunes, and Google Play and playing at select drive-in theaters. 
---
Along with…
---
New Indie Trailers
---
Spree (2020) 66%
Stranger Things' Joe Keery stars in this horror-thriller about an Uber driver on a rampage in a quest for viral fame.
---
Fisherman's Friends (2019) 69%
Sense8's Tuppence Middleton and Rome's James Purefoy star in this film that tells the story behind 10 fishermen from a small seaside village who were signed to Universal Records.
---
Happy Happy Joy Joy: The Ren & Stimpy Story (2020) 82%
A new documentary that chronicles the history of the groundbreaking animation show Ren & Stimpy.
---
Thumbnail image by Everett Collection