Warning: Major spoilers for Avengers: Endgame follow.
Since Avengers: Endgame opened in theaters this April, questions about the movie and its making have been burning in fans' minds and setting comments sections on fire. Questions like: How did the filmmakers decide who was going to live and who was going to die? Why did they decide to go the "Bro Thor" route? Is it true that the Russo Brothers pretended they were shooting a wedding when they were really shooting a funeral? And, of course, how in the hell did they get all those actors together for the epic climactic battle? At this year's San Diego Comic-Con, Rotten Tomatoes sat down with directors Joe and Anthony Russo for an extended conversation about everything Endgame to get the answers to those questions and more. We learned what really went down behind the scenes, what might have been, and why the brothers think Robert Downey Jr. should be in this year's awards conversation.
---
Like this? Subscribe to our newsletter and get more features, news, and guides in your inbox every week.
#1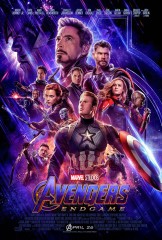 Critics Consensus:
Exciting, entertaining, and emotionally impactful,
Avengers: Endgame
does whatever it takes to deliver a satisfying finale to Marvel's epic Infinity Saga.
Synopsis:
Adrift in space with no food or water, Tony Stark sends a message to Pepper Potts as his oxygen supply...
[More]