There is only one franchise big enough, bad enough, and explodey enough to scare away all other wide releases, for fear of getting caught up in its black fumes and brotastic posturing. That franchise is, of course, the Transformers franchise, and if your kids succeed in suckering you to go see the latest installment, here's what you should know about it, for their sake.
---
NOW IN THEATERS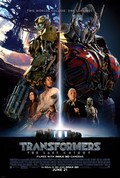 Rating: PG-13, for violence and intense sequences of sci-fi action, language, and some innuendo.
No, you're not losing your mind. There is indeed a fifth Transformers movie. Once again, the planet is in peril, and only Mark Wahlberg playing a guy named Cade Yeager can save it. Trying to explain the plot is pointless. Transformers: The Last Knight manages to be more incoherent than its predecessors. Plus, you probably don't care. Suffice it to say, it's about giant robots smashing into each other. It's also about their alien planet, Cybertron, potentially smashing into Earth to drain it of all its energy. Michael Bay's film is, as always, a massive, cacophonous spectacle. There's a ton of violence here, beginning with a battle set during the time of King Arthur. In the present day, the robot combat causes a ton of destruction, as always — and explosions.  So many explosions. There's quite a bit of language throughout as various characters insult each other and freak out about the possibility of the world ending. And there's some mildly racy humor as Wahlberg's character exchanges allegedly snappy banter with a brilliant and suggestively dressed professor (Laura Haddock), but kids probably won't get it. I took my 7 ½-year-old son to an IMAX 3-D screening and he was fine, but kids who feel uncomfortable during sensory-overload movies like this might have difficulty watching it. And at well over two hours, the new Transformers will probably be a tough sit for many young viewers. Fine for tweens and older.