Almost everything new in theaters and on DVD this week is rated R, but there is a Steven Spielberg sci-fi classic returning to the big screen, and even though it's about aliens visiting Earth, it's a decidedly more hopeful take on the genre. If you never got to see it in theaters, now's your chance, and you should feel free to take your kids. Read on for Christy's assessment.
---
NOW IN THEATERS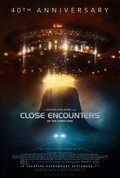 Rating: PG, for some intense sci-fi action, mild language and thematic elements.
The Steven Spielberg classic is getting a re-release this weekend in honor of its 40th anniversary, and if you've never seen it – or you've never seen it on the big screen – now is the time to do it. This is also a great opportunity to share the film with your kids. It's signature Spielberg sci-fi through and through — certainly not as cuddly as E.T. – The Extra-Terrestrial, but similarly filled with awe and wonder about the possibilities of discovery and connection. But as is often the case in the master director's films, Close Encounters features many moments that are mysterious and unsettling – even frightening – as it builds up to revealing what the aliens' purpose is on Earth. Richard Dreyfuss stars as a man obsessed by visions he can't explain and driven to determine what they mean. His quest connects him with a woman (Melinda Dillon) whose son was abducted and whisked away in a UFO. The two find themselves drawn to the imposing Devil's Tower in Wyoming in search of answers. Some of the alien stuff might seem scary for little kids: the dramatic lights, the space ship, the iconic John Williams score. I showed Close Encounters to my son a couple summers ago – he's now almost 8 – and he did fine, but seeing it in a movie theater might be an entirely different and possibly overwhelming experience for younger viewers. Still, the film is thrilling and ultimately hopeful, and it holds up beautifully all these decades later. I highly recommend it for viewers around 8 and older.