(Photo by Eric Milner / Orion Pictures)
In July 2018, it was announced that Orion Pictures had secured the rights to the first Child's Play film, written by Don Mancini and directed by Tom Holland, but fans were to expect some major changes in this franchise reboot.
Mancini is in development with a Child's Play television series for SyFy, ensuring that all the original elements of Chucky's rise to power (and marriage and kids) would be preserved. That frees up new director Lars Klevberg and first-time writer Tyler Burton Smith to do a totally different take on the original film, potentially spawning their own parallel franchise.
Cast and crew began shooting in the fall of 2018, and Klevberg was nice enough to invite us up to Vancouver to the famed Riverview Hospital, where all your favorite spooky things are filmed, to get a glimpse of the new world of Child's Play. Back then, no footage had been released to the public, and news had not yet broken that Mark Hamill would be voicing the murderous doll. But we did pick up several details that even the trailers have yet to reveal.
Here's what we learned.
---
These Aren't Your 1980s Karen and Andy
Just as in the original, the story revolves around a single mother and son, Karen and Andy Barclay. Here, they're played by Aubrey Plaza and Gabriel Bateman, respectively, and Andy's about double the age of the original character, at 12 now. With age, Andy's character deepens from a 6-year-old naïf to a sweet but moody pre-teen who loves his mom, even if she doesn't understand him at all.
Karen is also a little less chaste in this version. In the original, she was a widow, but, here, it's assumed dad just never stuck around. As the producers said, Karen being a single mom was the subtext in the old film, but "it's the text of the new film." Karen fills her time with bad boyfriend Shane, who, like most bad boyfriends in moviedom, is not long for this world. There's a potential for a little romance, however, with Detective Mike, played by Brian Tyree Henry.
Detective Mike is a kind of moral center of the story and lives in an old building with Karen and Andy. When Karen can't deal, she escapes to the dingy basement and smokes, which is where Mike can find her. We saw one such scene being filmed at Riverview, where Plaza and Henry improvised a tender moment shared between their two characters. Klevberg certainly seemed to be an actor's director, allowing emotion to drive the scene, quite a bit different from the original.
---
---
Think BUDDI doll Chucky is bad? Meet MUDDI Bear.
There is no voodoo. We repeat: THERE IS NO VOODOO. At least not when it comes to bringing Chucky to life. As Klevberg says, "It's not a thing where you look and he has no batteries." Instead, the Chucky doll is an AI BUDDI doll, who comes to "life" when a disgruntled employee inserts a faulty chip into his body. And this time, Chucky has some pals, BUDDI dolls of all colors, and a ferocious, cuddly BUDDI Bear, plus a bunch of drones. We're also told that Chucky has the ability to control all of his new friends (something the most recent trailer also showed us).
Chucky still finds his way to Andy by way of a birthday gift from his mother. Karen thinks it's the hottest new toy and that it might help him make friends, but doesn't realize that a pre-teen boy doesn't play with dolls. A lot of this story will revolve around Karen feeling like a failure as a mother, and Andy attempting to be the adult in their relationship.
---
---
Expect Old-School Puppet Effects (With Some CGI Emotions)
Most of the puppet effects are done old-school with Emmy Award-winning FX studio MastersFX reimagining Chucky and his BUDDIs. We watched one green screen filming session with the BUDDI Bear, where puppeteer Keith Arbuthnot used a basic puppet rod system, mounting the bear's feet to rods that connected to Arbuthnot's feet, and remote-controlled the bear's head movements. But the team did say all the puppets would get CG eyes, to get at their emotions onscreen.
---
Some Stranger Things Flavor Has been Added
Klevberg wants to make it clear that this film isn't a vehicle for witty one-liners for Chucky. "I think all Child's Play movies have some sort of great humor. But that humor needs to be threaded in the story and it needs to feel real [for me]." With the raunchy spirit of a serial killer removed, there's a sense that the reboot is built for a split audience of adults and younger people, with a subtler, more sophisticated tongue-in-cheek humor. They even retooled the focus of the film, giving Andy a plucky gang of friends á la Stranger Things or Attack the Block — Klevberg said it was the "smart" thing to do for the reboot.
---
(Photo by Orion Pictures)
---
Frankenstein Provided Director Klevberg With Inspiration 
When we visited the set, it was still unknown who would be voicing Chucky; we now know the honor will go to Luke Skywalker himself, Hamill, who also voiced the Joker in the 1990s' Batman: The Animated Series. Chucky apparently has the most complete character arc of the story. Producers said that "by the end of the film, you're unsure if it's a real boy. This is really a new Pinocchio story." But Klevberg seemed more influenced by Mary Shelley's Frankenstein, calling it his "key inspiration." Klevberg says, "I picked up the book and read it again, because there are so many interesting similarities there. How [the characters] deal with Chucky from their perspective, and how they are being separated by understanding of his motivation and purpose of life, and what's [Chucky's] purpose when he starts to learn from other human beings."
---
Like this? Subscribe to our newsletter and get more features, news, and guides in your inbox every week.
---
Child's Play is in theaters everywhere June 21, 2019
#1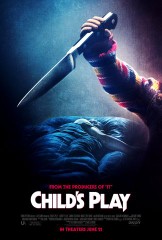 Critics Consensus:
Child's Play
updates an '80s horror icon for the Internet of Things era, with predictably gruesome -- and generally entertaining -- results.
Synopsis:
After moving to a new city, young Andy Barclay receives a special present from his mother -- a seemingly innocent...
[More]