From the highly acclaimed to the aw-that's-a-shame, these are the best and worst reviewed television series by network. Unsurprisingly, networks with just a few shows, like BBC America and TBS, fared much better overall than those with more. Even with 10 shows on the docket, though, HBO still managed to stay entirely Fresh; its lowest-rated series is Animals at 60 percent. See below for the full breakdown.
---
Series included are currently on the air and have not aired their final episode as of May 18th, 2016.
It's time for our weekly Fall Premieres TV Review Countdown. Here are the best (and worst) premieres for the week of Friday, November 13. See how this week's shows Into the Badlands, W/Bob and David, and Donny! stack up against each other on the Tomatometer!
This week at the movies, we've got heroic miners (The 33, starring Antonio Banderas and Juliette Binoche), yuletide revelers (Love the Coopers, starring Olivia Wilde and Diane Keaton), and a gridiron underdog (My All American, starring Aaron Eckhart and Sarah Bolger). What do the critics have to say?
---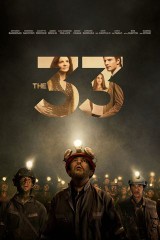 The story of the brave Chilean miners who were rescued after being trapped more than 2,000 feet underground is the kind of real-life inspirational tale that practically begs for a big-screen adaptation. Unfortunately, critics say The 33 shoehorns its inherently dramatic tale into a formulaic disaster movie template. If you watched the news in 2010, you know the basic outline: a cave-in traps a group of mine workers for nearly two months, and the film follows events both below and above ground, as the miners' families and supporters try to stay strong while a rescue team goes to work. The pundits say the cast of The 33 does well with its limited characters, but the film is ultimately too predictable and surface-level to fully resonate.
---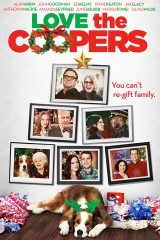 The holidays can turn even the staunchest Scrooge into a gooey sentimentalist, so there's nothing fundamentally wrong with a film that follows an age-old seasonal recipe. Too bad, then, that critics say that despite its all-star guest list, Love the Coopers is louder — and less funny — than a bad Christmas sweater. Diane Keaton stars as the matriarch of the Cooper clan, the members of which are all on shaky ground in their personal lives as they gather for presumed seasonal merriment. Will everyone hit some sort of low point before banding together in celebration? The pundits say Love the Coopers might jerk a tear or two, but mostly, it's alternately too gloomy and too contrived to achieve any kind of festive goodwill.
---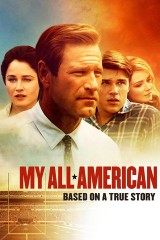 With so many inspirational sports films in the world, it takes something truly special to rise above the competition. Unfortunately, critics say My All American, the directorial debut of Rudy and Hoosiers scribe Angelo Pizzo, fails to distinguish itself from the pack, even if it's earnest and well-acted. Based on the true story of college football player Freddie Steinmark, the film stars Aaron Eckhart as University of Texas coach Darrell Royal, who spots talent in the undersized Steinmark (Finn Wittrock) and offers him a full scholarship. Upbeat and dedicated, Steinmark leads the 1969 Longhorns through a legendary season even as he is struck with tragic news. The pundits say My All American is uplifting and heartfelt with strong performances from its cast, but it's predictable and far from subtle, and viewers with an aversion to schmaltz should steer clear.
---
What's Hot on TV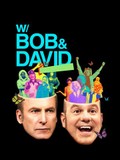 W/Bob and David offers a long-overdue reunion between Mr. Show principals Odenkirk and Cross — and a suitably hilarious reminder of the reasons for their subsequent individual successes.
---
Into the Badlands is loaded with off-kilter potential that's left largely unfulfilled — although its well-choreographed action sequences should satisfy martial arts fans.
---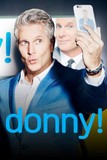 Often unfunny and occasionally creepy, Donny! draws unfavorable comparisons to any number of superior improvisational comedies.
---
Also Opening This Week In Limited Release
Donny Deutsch, ad-mad-extraordinaire-turned-talk-show-host is enjoying the newest incarnation of his career — playing himself.
In Donny!, USA Network's new soft-scripted comedy about his own life, Deutsch, who once helmed the real CNBC talk show The Big Idea With Donny Deutsch, plays the host of a fake Dr. Phil-style daytime show (also called Donny!), tackling an array of contemporary issues. On his fake talk show, Donny has an executive producer in his ear (Emily Tarver), who keeps him from looking too idiotic in public — and off camera, his character has a coterie of assistants who try to save him from the same issues he discusses on his show.
Rotten Tomatoes chatted with Deutsch and Tarver about how Donny! came to be, and how a non-actor ended up playing himself on TV. Turns out improv is not all that different from life in the board room. Here's what we learned!
---
DONNY! IS INSPIRED BY A TODAY SHOW SEGMENT
Deutsch, who's often a talk show guest himself, said that the inspiration for Donny! came out of his recurring spot on the Today show called "The Professionals," which featured him, Star Jones, and Dr. Nancy Snyderman sounding off on various topics."
"We'd have all these different guests and talk show hosts," Deutsch told Rotten Tomatoes. "Having met so many people in the media, you see their personas, and when the cameras goes off, you see this other thing; [that] was kinda the inspiration for it."
That's just the beginning of where the art-versus-reality line gets fuzzy. Not only will the host have a fake show within the show inspired from his frequent visits to the Today show, but he'll also have an episode where he visit Kathy Lee and Hoda!
---
 THE DIALOGUE OF DONNY! IS HEAVILY IMPROVISED
Donny! — like Larry David's Curb Your Enthusiasm to which the show is heavily indebted — is what USA is calling "soft-scripted," meaning that the situations are on the page, but the dialogue itself is more of a guideline than a bible.
"Since I'm so new to this, I didn't know the rules that we were breaking," Deutsch said. "We'd have a script and we'd read it once and Emily [Traver] and I would start f—ing around, and it was just like, 'What's going to make the best scene?'"
Tarver, a seasoned improviser who got her start at New York's famous Upright Citizen Brigade theater, explained how she and Deutsch would map out the beats of a scene and then merely try to talk like real people. "There's a little bit of overlap, which I always really enjoy when I see a show like Parenthood," the actress said. "I love that show and that aspect of how people talk. People don't wait for someone else to stop talking." As if on cue, Deutsch interrupted, "Especially me."
---
DEUTSCH HAS BEEN IMPROVING FOR YEARS — HE JUST DIDN'T KNOW IT
Tarver described herself as "completely, absolutely, whole-heartedly amazed" at Deutsch's improv chops. "I think when you study improv, you can get bogged down in the rules of it," she said. "The whole thing about improv, especially at UCB, is don't think, just do — just do whatever's there and that's how Donny performs. I kinda don't want him to ever take a class or to ever listen to anyone.
"It's interesting," Deutsch added, reflecting on his pre-improv career. "I would sit in client meetings and I'd hear what they are saying and react and take it down a path that I wanted to go down. And then for years and years and years doing live television — whether it's been interviewing people or being interviewed — that's all improv. I mean, it's basically thinking on your feet, producing in your head, and saying, "Okay, this person said this. What if I take it here or go there?" Just instinctively doing it. So actually I had a lot of training — not with formal acting — it was just very in the moment and fun."
---
DONNY'S 'DADDY BACKGROUND' PLAYS A BIG ROLE
As in his real life, being a dad is a big part of playing the role of Donny, whose two TV kids are portrayed by Fiona Robert and Jacob Thomas Anderson. "I have a grown daughter who is 27 now," said Deutsch. "I have an 8- and 12-year-old at home and I'm very open with them. They've only known this life. I'm very comfortable bringing a woman home who I've just gone on one date with; they know it's not their new mommy. They know it's a date that Daddy's going out on, and they're like, 'Cool.'"
Deutsch tries to play the dad stuff as true to his real life as possible. "What's fun about this show for me is everything that I've done has informed it. My advertising background, my talk show background, and my daddy background," he explained. "So, if I'm doing this scene where I'm talking to my kids, I'm just talking to my  [TV] kids like I talk to my [real] kids. It's not hard. I'm just playing an idiotic version of myself and I don't have to do it word for word, so they made it easy for me."
---
PLAYING AN IDIOTIC VERSION OF YOURSELF IS FUN
Deutsch is aware of how his persona comes off in Donny! and he embraces the freedom of being self-deprecating. "What's interesting is in the episode with Christie Brinkley, there's a funny scene where I talk to my assistants about how I take women back to my home and give them a tour," Deutsch, who shoots the series in his real-life six-story New York City mansion, explained to Rotten Tomatoes. "It gets very seductive. I'm narrating it [to the assistants] but that's actually what happens and I'm aware of it. So a woman will come in and go, "Oh, you collect art!" and I go, "Yeah," and in their heads, they are thinking, 'Oh, wow, he's got some culture.' Then you bring them up into the kid's floor, and it's 'Oh my God — he's a good dad!' I'm actually aware of this happening, so all I'm doing is just making fun of my ridiculous life."
The seduction only last so long, however. "I usually end up getting burned one way or the other," Deutsch laughed. "The women always come out on top in every element of the show and that's the way it kinda happens in my life also. I've always surrounded myself with strong, fantastic women… I fashion myself quite the ladies man, but I usually come up short."
---
EXPECT A LOT OF CAMEOS BY DONNY'S REAL-LIFE FAMOUS FRIENDS
Christie Brinkley isn't the only cameo in Donny! Expect appearances from his friends in the media, including Reverend Al Sharpton, Morning Joe's Mika Brzezinski and Joe Scarborough, Regis Philbin, Maria Menounos, Billy Bush, and Russell Simmons this season.
"There's a couple of more surprises that show up," Deutsch teased. "Everybody was just totally into it. I think if the show does well, much like Curb was to entertainment in L.A., this will be a big media stop because people love making fun of themselves and they love making fun of me. That was one of the big draws to come on."
Donny! premieres tonight on USA Network at 10:30 p.m. and also stars Hailey Giles, Meera Kumbhani, and Jessica Renee Russell.