HBO and BBC have joined forces on His Dark Materials, an edgy, effects-heavy, family friendly fantasy television series. For fans of Phil Pullman's book, The Golden Compass — which this is a new adaptation of — the TV show has been a long time coming. The eight-episode first season of the series, which is set to hit HBO on November 4, stars Logan's Dafne Keen as Lyra Belacqua, James McAvoy as Lord Asriel, Ruth Wilson as Marisa Coulter, and Lin-Manuel Miranda as Lee Scoresby, in a program that is sounding more-and-more like the network's next attempt at Game of Thrones greatness.
Die-hard fans of Pullman's work have been wary; after all, we've been here before. Nicole Kidman, Daniel Craig, Sam Elliott, Eva Green, and Ian McKellan all starred in 2007 feature film The Golden Compass. The Lord of the Rings and Harry Potter movies brought in big money for New Line and its parent company Warner Bros. Pictures, and The Golden Compass might have been the next big thing, but the movie was stripped of the book's critical religious themes, replacing narrative complexities with happier elements. The film bombed big time, leading the studio to scrap its sequel plans.
This brings us back to His Dark Materials, produced in part with another Time Warner media property, HBO. The eight-episode first season of the fantasy series aims to tap back into the lush world Pullman originally imagined in 1995. Will the show translate Pullman's fantastical homage to John Milton's Paradise Lost, while maintaining the dark undertones that were lost in the movie? From its lush effects and talking animals to the good-vs-evil, classist elements of the story, there's a lot to unpack. Will the program resonate with today's audiences?
Here's what the critics are saying about season 1 of HBO's His Dark Materials.
---
(Photo by HBO)
HOW DOES IT COMPARE TO THE BOOK?
Fans of the books will be glad to know that care has been taken to get it right this time. From what I've seen so far, nothing of consequence has been left out. — Robert Lloyd, The Los Angeles Times
Despite the rich complexities of the novel's world of daemons, power-hungry players and warring faiths, HBO's "His Dark Materials" feels like it could have been plucked from most any other fantasy epic out there. — Caroline Framke, Variety
National Treasure screenwriter (and screenwriting national treasure) Jack Thorne has pulled off the improbable if not quite the impossible, delivering an engaging and sumptuous take on Pullman's world that cleaves impressively close to the books while still making a few tweaks for the visual medium. — Huw Fullerton, Radio Times
---
DOES THE ENSEMBLE CAST DELIVER?
(Photo by HBO)
Keen is spellbinding. She is modern enough not to alienate the younger audience members but also possesses a sort of old-fashioned pluck that helps to propel the action. Among the adult cast, James McAvoy is commanding as Asriel, while Ruth Wilson's Mrs. Coulter is like an irresistibly enigmatic screen siren from a Forties film noir. — Ben Lawrence, Daily Telegraph
Dafne Keen, recognisable from 2017 X-Men film Logan, plays main character Lyra with willfulness and spark. James McAvoy is terrific as her Byronic uncle Lord Asriel, while you'd call Ruth Wilson a revelation as the glamorous and mysterious Mrs Coulter if she weren't always this watchable. — Louisa Mellor, Den of Geek
Only Lin-Manuel Miranda, as "aeronaut for hire" Lee Scoresby, hits a false note. The actor wears his fedora at a determinedly rakish tilt, but his swagger (and his intermittent Southern drawl) are more playacting than performance. — Kristen Baldwin, EW
---
(Photo by HBO)
HOW ARE THE VISUAL EFFECTS?
While we're on the subject of the way things look, everything from the tourist-board realism of the canals, via the cobbled streets inhabited by the Gyptians (a group of water travellers whose children are going missing), up to the skyline of Oxford, are sumptuous examples of imagination manifested. — Matt Rodgers, Flickering Myth
All the lavish CGI has other limitations. The more ambitious it gets, the more studio-bound the acting becomes. You can't help remembering that the stars are performing in front of green screens, talking to imaginary animals and running through unseen buildings. — Christopher Stevens, Daily Mail
---
(Photo by HBO)
SO, IS THIS THE NEXT GAME OF THRONES?
This is an ambitious series that tackles some lofty themes about power and faith while still giving us spectacular special effects and thrilling action sequences. In short, this is HBO's first series that has the scale of Game of Thrones but is accessible for all ages. — Alex Maidy, JoBlo's Movie Emporium
His Dark Materials is very much a fantasy series made in the aftermath of Game of Thrones, with the story's more fantastical elements given as much weight as the conspiratorial mysteries and complicated character dynamics. — Hoi-Tran-Bui, SlashFilm
---
His Dark Materials season 1 premieres on Monday, November  4 on HBO.

---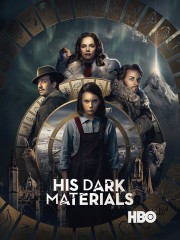 Critics Consensus:
The daemon is in the details and while
His Dark Materials
' visual splendor and exceptional performances deftly capture the essence of Philip Pullman's seminal novels, it could use a little more magic.
---
Like this? Subscribe to our newsletter and get more features, news, and guides in your inbox every week.