The Mandalorian
 comes roaring back with the first episode of season 2. "Chapter 9: The Marshal" serves up loving shots of The Child ("Baby Yoda"), a monster of a challenge for Din Djarin/The Mandalorian (
Pedro Pascal
), an engaging new character played by Hollywood's favorite lawman and gunslinger
Timothy Olyphant
, and plenty of shoot-'em-up action.
Here's what critics are saying about episode 1 of The Mandalorian season 2:
---
Is The Child Still Adorable?
(Photo by Lucasfilm/Disney+)
"Even with Mando kicking serious ass for most of the episode, the best part of the premiere was, naturally, Baby Yoda." – Amanda Mullen, Culturess
"This episode of The Mandalorian is pretty much Jaws. It's Jaws plus Baby Yoda reaction shots. What more could you want?" – Ben Allen, GQ Magazine [UK]
"This week's adventure is as simple as they come, and, as expected, Baby Yoda's as cute as ever." – Jack Shepherd, SFX Magazine
"The Mandalorian has returned to save 2020 with a stellar opening episode helmed by Jon Favreau, a wonderful performance from an unexpected co-star, and plenty of Baby Yoda cuteness." – Josh Wilding, ComicBookMovie.com
---
How Does "The Marshal" Hold Up Next to the High Bar Set by Season 1?
(Photo by Lucasfilm/Disney+)
"Hopefully, Favreau and Co. continue to experiment and open up this universe. 'The Marshal' celebrates what you love about 'Star Wars' and makes you love it more. It provides more understanding of what we've seen and who we thought we knew." – Preston Barta, Fresh Fiction
"[The Mandalorian] proves with one of its best episodes yet that it still has a lot of flair, inspiration, and jetpack fuel to go around." – Nick Allen, RogerEbert.com
"It's such a simple premise and it's been done more times than we can count, but in this age of convoluted storytelling and 'It's really a 10-hour movie' seasons of television, it feels fresh and, in its own way, kind of revolutionary." – Tom Fitzgerald and Lorenzo Marquez, Tom & Lorenzo
"'The Marshal' doesn't feel long. There are probably some spots that could have been tightened up, but on the whole it was very much of a piece with how the show worked so well a year ago." – Alan Sepinwall, Rolling Stone
"The first episode, 'Chapter 9: The Marshal,' was full of highlights, marking a strong start to the show's sophomore run." – Amanda Mullen, Culturess
"You can relax – The Mandalorian Season 2 isn't about to skimp on the action, and it's of the same quality as it was in the previous outing." – Jonathon Wilson, Ready Steady Cut
---
How Are the New Characters?
(Photo by Lucasfilm/Disney+)
"We don't need gimmicky cameos by movie characters to tie in with the saga as a whole, and 'The Marshal' offers something arguably much richer." – Richard Trenholm, CNET
"As the episode's title, 'The Marshal', might suggest, a marshal with whom to contend, played winningly by Timothy Olyphant, who has form in the lawman department. Throwing Mando in with someone as laconic and charming as Olyphant even brings something out of the taciturn hero. At one point he comes dangerously close to making what could be considered to be, after much scrutiny, a joke." – Chris Hewitt, Empire Magazine
"[Olyphant] does a terrific job alongside Pedro Pascal's formidable bounty hunter and is someone we definitely hope to see more of in this series (or others). The actor in question is one of the most talented working in Hollywood today, though not someone we see anywhere near as often as we should on screen. With The Mandalorian, however, they're bound to now have a whole new legion of fans. " – Josh Wilding, ComicBookMovie.com
---
Good Easter Eggs?
(Photo by Lucasfilm/Disney+)
"Despite my love of all the fun Easter Eggs, we should hope that The Mandalorian doesn't get too overwhelmed by bringing in wider Star Wars lore and forget what makes it work so well – the simple story of a gruff mercenary and a super-powered alien muppet." – Huw Fullerton, Radio Times
"Even with so many nods to Star Wars past, The Mandalorian's not overstuffed." – Jack Shepherd, SFX Magazine
---
---
How Are the Effects in Season 2?
"They also do a very impressive job bringing it to life. Effects on action and sci-fi television series have traditionally lagged behind action and sci-fi movies." – Matt Singer, ScreenCrush
"While this week's episode is tipping its hand just a bit too much in its ambitions to be the new, albeit kid-friendly, Game of Thrones, there is something to be said for delivering high-priced spectacle on a weekly basis." – Barry Hertz, Globe and Mail
"Despite my wishes for what this episode should have been, it is clear that the production values on this series continue to rival anything else on TV right now. It also shows that Jon Favreau truly respects the Star Wars mythology, both canon and non." – Alex Maidy, JoBlo's Movie Network
"[Among] its most epic [episodes], partly thanks to an eight-minute sequence that seemed to have been shot with IMAX cameras." – Akhil Arora, Gadgets360
"The quality of The Mandalorian continues to be on par with the Star Wars movies, and the visuals from start to finish are nothing short of awe-inspiring. " – Josh Wilding, ComicBookMovie.com
---
So Is There Anything to Complain About?
(Photo by Lucasfilm/Disney+)
"I just wish it had gone to a new planet, or even dived deeper into the characters." – Megan Crouse, Den of Geek
"The series isn't going to succeed until it stops being 'that Star Wars show' and starts coming into its own." – Kelly Lawler, USA Today
"Mando's Season 2 premiere is fun but familiar; creative action and easter eggs help boost an anticlimactic story." – Laura Prudom, IGN Movies
---
Final Verdict?
(Photo by Lucasfilm/Disney+)
"If the balance of Season 2 can match the promise of this first episode, it's still easy to have a good feeling about this." – Brian Lowry, CNN.com
"Despite a panoply of familiar Mandalorian ingredients… 'The Marshal' fails to congeal them into something greater. When it comes to washing Rise of Skywalker's taste from our mouths, however, The Mandalorian is the perfect Listerine." – Louis Chilton, Independent (UK)
"The most exciting aspect of the Season 2 premiere, in the long run, comes down to this: The Mandalorian really has made the case for its existence by how it highlights what life is like in the Outer Rim." – Liz Shannon Miller, Collider
"The action of 'The Marshal' and its canon-shaking final shot works better for people who know all the related material (and not just the films, but the books too) but the episode is also entertaining on its own terms, another Western-inspired story of a man who goes to the edge of society to save a village from a violent threat." – Brian Tallerico, The Playlist
---
The Mandalorian season 2 episode 1 is now available to stream on Disney+. 
On an Apple device? Follow Rotten Tomatoes on Apple News.
Highly-anticipated live-action Star Wars series The Mandalorian has finally arrived on Disney+ wowing fans and critics alike — those who were able to watch it anyway. The streaming service experienced some technical difficulties when it first went live, but once viewers were able to get through, the love started pouring in on social media.
Starring Pedro Pascal (Game of Thrones) as the titular bounty hunter, the series was created by Jon Favreau (Iron Man), who serves as showrunner, and also stars Gina Carano, Carl Weathers, Werner Herzog, Nick Nolte, Emily Swallow, Taika Waititi, Giancarlo Esposito, Omid Abtahi, and Ming-Na Wen. Episode one was directed by Dave Filoni.
Critics weren't given advance screeners for the series, so many of them reported on their reporting, noting that they rose early to watch episode one and then file their reviews.
Here's what the sleepy critics are saying about episode 1 of The Mandalorian.
---
---
IS IT GOOD STAR WARS?
This is Star Wars heaven. — Germain Lussier, io9.com
Casual viewers and superfans alike need not despair over The Mandalorian's many departures; despite its glossy and alien appearance, the first episode suggests the show is vintage Star Wars through and through. — Jeva Lange, The Week
Less concerned with capturing the magic of Star Wars than roughing it up a bit. Even when The Mandalorian lags, its swerve from a more expected route makes it more intriguing as an entryway into a galaxy far, far away. — Caroline Framke, Variety
Happily, the show's brisk, handsomely produced 39-minute premiere is a great deal of fun, giving fans reason to have a good feeling about this. — Brian Lowry, CNN.com
The Mandalorian may not be risky… but its commitment to simplicity works to its advantage, capturing the spirit of the original series with a good amount of monsters, shootings, and adventures. [Full Review in Spanish] — Jorge Loser, Espinof
A welcome return to 'old school' Star Wars style, that I loved watching and was left wanting more. [Full review in Spanish] — Jorge Loser, Espinof
Not that this detracts from the charm of a series that has started in relatively low key fashion but seems certain to leave everyone, and not just Star Wars ultra-diehards, wanting more. — Ed Power, Daily Telegraph (UK)
"The Mandalorian" pulls no punches. It's "Star Wars"/Disney right down to its weird sand creatures and blighted outposts, and a safe-but-entertaining start for the media giant's exploratory mission into a largely untamed universe. — Lorraine Ali, Los Angeles Times
The Mandalorian is everything fans could have wanted from a live-action Star Wars TV show and with a killer performance from Pedro Pascal, it's already clear this is going to be appointment viewing each week. — Josh Wilding, ComicBookMovie.com
The next challenge: making it feel like Star Wars. Based on its first episode, The Mandalorian rises to that one, too, digging into the seedy underbelly glimpsed in Episode IV's cantina scene and throughout Rogue One. — Keith Phipps, New York Magazine/Vulture
The Mandalorian, more than anything Disney has produced outside of Rogue One, actually feels like Star Wars. — Joshua Tyler, Giant Freakin Robot
The Mandalorian is inherently Star Wars, especially when it isn't. It's a George Lucas idea with the flair of J.J. Abrams and the bold confidence of Rian Johnson. It's a unifying rally cry for a franchise that needs it most. — Charlie Ridgely, ComicBook.com
---
DOES THE CAST DELIVER?
(Photo by Disney+)
At least for a while, the Mandalorian and IG-11 form a bantering, gunfighting duo as the pilot begins aggressively aping Butch Cassidy & The Sundance Kid, which is about as good a thing to echo as I can imagine. — Dan Fienberg, Hollywood Reporter
If you love watching a bunch of armored space soldiers shooting at each other with blasters, you'll have nothing to complain about. But-sans history, motivation, or facial expressions-it rings a bit hollow, lacking the achingly human element. — Sonia Saraiya, Vanity Fair
As you would expect, the leading man, played by Game of Thrones' actor Pedro Pascal, is a gargantuan presence. The camera rarely strays from him as he blasts through dozens of enemies. — Jack Shepherd, SFX Magazine
The complexity introduced by Pascal's performance, Favreau's writing, and Filoni's direction is enough to keep us engaged. Let's just hope the rest of the world firms up around him. In Filoni and Favreau we trust. — Dave Trumbore, Collider
---
(Photo by Disney+)
HOW ARE THE VISUAL EFFECTS?
There's so much in this show to be excited about, from the lightning-fast fight scenes to large, mushy alien animals. — Emma Stefansky, Thrillist
The biggest problem, at least in this episode, is how oddly stagey it looks and feels. I can't put my finger on it, but it feels less like a cinematic TV show (or even a conventional TV show) and more like a dress rehearsal of a very expensive play. — Scott Mendelson, Forbes
The Mandalorian leans into the sci-fi Western genre, which is a great atmosphere, even if the montage of our Mandalorian learning to break and ride a corralled alien is kind of dorky. — Matt Miller, Esquire Magazine
Masterminded by Jon Favreau, the show smoothly introduces us to the dusty frontier worlds and shadowy cantinas the Mandalorian inhabits. — Sean Keane, CNET
Thankfully, despite the family-friendly rating, the episode doesn't shy away from showing how effective and deadly Mando can be, and the action scenes are shot with kinetic energy and rhythm, dropping us right in amid the chaos. — Laura Prudom, IGN Movies
Visually, The Mandalorian looks simply fantastic, filled edge-to-edge with rich set details and cinematic, otherworldly vistas. — Matt Webb Mitovich, TV Line
Despite taking place in a universe millions of fans are acquainted with, "Mandalorian" doesn't spend enough time explaining its own world. Attempts to establish a time and place are clunky. — Kelly Lawler, USA Today
---
(Photo by Disney+)
SHOULD WE KEEP WATCHING?
The Mandalorian may not be the next Game of Thrones, and Disney+ may not succeed as a service. But what's here so far is a good Star Wars TV show, one that takes the existing lore and setting and expands it in a new and exciting way. — Chaim Gartenberg, The Verge
Everything before the reveal promises a lean Western series carried by a hero who'll always save the day. As history proves, that's the basis for pure entertainment, and it's a promise the show should keep.— Matt Patches,
Polygon
At first glance, The Mandalorian appears to have lived up to its potential. — Kevin Yeoman, ScreenRant
[The premiere is] good enough to keep me watching, forgettable enough that I doubt I'll want to watch this specific episode again. — Brian Tallerico, RogerEbert.com
It's a convincing hook for a series, but the series premiere was all action and minimal plot. — Paul Dailly, TV Fanatic
Although this first episode has its struggles, these cliffhanger questions and the sense of nostalgia laced throughout may well have you coming back for more. — Alex Haslam, Radio Times
The Mandalorian seems satisfied with its gunfights, aliens, robots and silent hero. And it should be because so far it's great. — Evan Saathoff, Birth.Movies.Death.
As long as you go into The Mandalorian merely expecting the first chunk of a roughly six-hour film (we don't know yet how much the length of episodes will vary), all will be good. — Chris Taylor, Mashable
The climax of The Mandalorian premiere cut strangely between misshapen tones, from laser-cannon gundowns to a cute baby melting even the coldest heart. — Darren Franich , Entertainment Weekly
---
The Mandalorian season 1, episode 1 is now available on Disney+.

---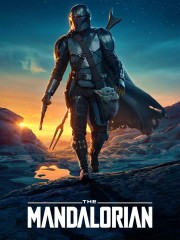 Critics Consensus:
Though its character building leaves something to be desired, "Chapter 1" is a visual feast with enough sense of adventure to inspire hope that the force may be strong with
The Mandalorian
.
Synopsis:
In the lawless aftermath of the collapse of the Galactic Empire, an armored bounty hunter takes on a well-paying yet...
[More]
---
Like this? Subscribe to our newsletter and get more features, news, and guides in your inbox every week.